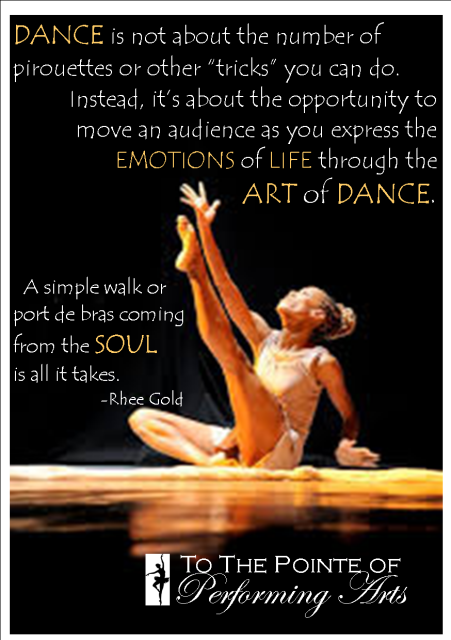 Our Philosophy & Mission:
Our goal at To The Pointe is to pass on to our eager students, the lessons that were taught to us, in a nurturing manner. We are dedicated to providing a professional learning experience, one that will prepare our dancers for their future.
Learning how to dance, produces much more than great steps. It brings out the confidence in an individual. What dancers learn today, will be with them for the rest of their lives.
Dedication, Perserverence, Admiration, Passion, and Pride can all be learned from working hard at what you love and feeling a sense of accomplishment because of it.
Our staff is made up of professional individuals who are certified to teach in all areas of dance and hold degrees in Elementary Education, Special Education, Exercise Science, Early Childhood Education, Business, Fine Arts, and Psychology.
We work hard to prepare our students to become the best they can be.
We conduct ourselves in an organized and professional manner at all times.
Whether our students aspire to become professional dancers or not, we feel that it is our responsibility as teachers to show them the way to become their best selves. We hope that our teachings give a dancer the feeling of self-respect and a strong sense of confidence. We instill the belief that anything is possible if you set your mind to it.
We enjoy seeing our students progress from year to year, becoming their very best. Helping dancers dream and reach for those dreams is what we enjoy doing most.
We feel that a quality dance education should be affordable, that is why we offer classes at very reasonable rates, usually lower than our competitors and discounts for siblings and family members.
Although we are not competitive, we hope our students are eager to push themselves because they want to be great. We expect, at all ages, that our students are eager to learn, engaged in the process, follow the studio rules and teacher's directions, respect themselves, their fellow classmates, and their teachers.
Performing in shows and recitals is one of our favorite times of the year. A feeling that we share with all of our students. We pride ourselves in producing a professional, family-friendly performance for our TTP community to enjoy.
We will work hard everyday to provide a positive, nurturing, and educational dance experience for all.
It is our passion, our love, and our life.......