Upon entering one of our To The Pointe Dance Studio locations, you will be greeted by our friendly staff. Receptionists, Teachers, & Teacher trainees are all there to help! Whether it be in regards to answering your questions or helping you with a dance wear purchase, they are ready to make your experience a positive one.
We pride ourselves in maintaining new, clean, and updated studios and reception areas. It is our goal to help everyone feel comfortable in our surroundings and to feel like they are a part of the To The Pointe dance family.
Our dancers practice in a professional and fun atmosphere. A specific dress code is key to promote focus and proper placement and execution of the techniques that they are learning in class.
It also helps greatly that all of our dancers wear the proper shoes and all the same to ensure uniformity at our stage performances.
TTP's Performance in Walt Disney World 2017:
TTP's Performance on Royal Caribbean's
ANTHEM of THE SEAS: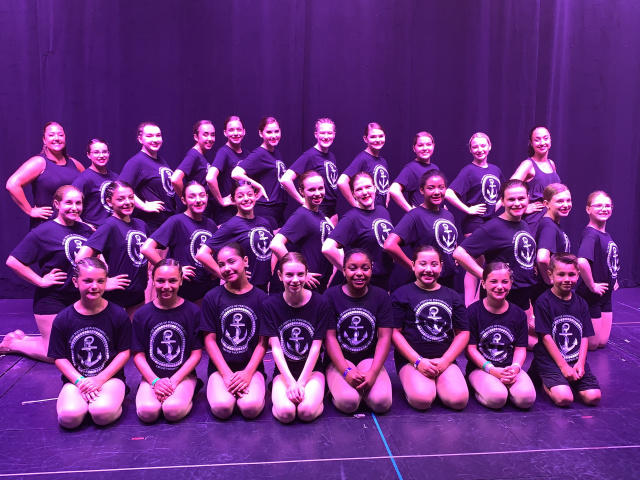 Students at To The Pointe become a part of a dance family. Spending time in class together and at special events such as performing in Walt Disney World and on Cruise Ship Performances, which make for some fun memories and experiences. Lifelong friendships are made in a positive atmosphere and can be fondly looked back upon as they grow into their adulthood.
Dancers will learn in an organized atmosphere. Always studying traditional styles of dance as well as new styles that emerge from the dance community.
Barre work, Center Work, Corner Work, & Variations are taught weekly.
Parents may watch their beautiful dancer enjoy her dance class through ONE-WAY viewing windows at each of our locations and for each dance room.
Dancers at all levels- Beginner thru Advanced-are challenged and motivated to work their hardest and be their best inside and outside of the studio.
Our dancers do not participate in competitions, therefore, they focus on learning and mastering multiple dance steps and techniques, and various pieces of choreography throughout a dance season. They find that hard work is it's own reward. They also find that they learn how to self-motivate and work hard without the need to receive trophies or awards to validate their talents. A non-competitive atmosphere also cultivates an atmosphere where everyone has a chance to shine.
TTP Dancers have multiple performance opportunities which we find does wonders for confidence and camaraderie building! We offer the following performances per year:
*Holiday Showcase in December
*Spring Recitals in June
*Summer Intensive Showcase in August
To The Pointe dancers have also performed at the following:
*Walt Disney World multiple times
*Royal Caribbean Cruise ships multiple times
*Holiday Performance at Warwick Mall
*Spring Performance at Warwick Mall
*Festival of Trees at the Providence Convention Center
*Holiday Gala Performance at Twin River Casino
*Various Fundraisers & Benefits
Making friends, sharing special moments, and making memories that last a lifetime are just some of the reasons why taking dance is beneficial to Child Development.
We only choose costumes that are age-appropriate, family-friendly, & of good quality. Our costumes are also reasonably priced. Costumes, tights, accessories, and props are all included. We take pride in making your experience an easy one. So we do it all! You do not have to sew, run out and buy, or repair anything. If there is a problem, we take care of it! Costumes come home on hangers or in special personalized recital costume dance bags.
Additionally, we offer fundraising opportunities to help subsidize your costume balance as a well as a 5 month payment plan that helps you organize and spread out your payments making it affordable for all.
To The Pointe's performances are not just your average recitals. Lighting design, quality costumes, and dynamic choreography encompass a 2 hour performance in which audience members are thoroughly entertained and impressed by what our dancers have learned in a relatively short time frame.
Family-Friendly Music, Age-Appropriate Costuming, & Choreography are an essential part of our philosophy.
We take pride in producing a professional and organized performance experience.